The Night Circus
Roundhouse Park/Bremner Blvd
Curator Denise Markonish invites you to join the circus along Bremner Boulevard between York Street and Spadina Avenue and along Spadina Avenue between Wellington Street West and Bremner Boulevard.
Near by

Pick up a map on Bremner Boulevard at Navy Wharf Court (East of Spadina Avenue).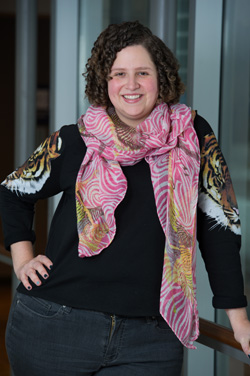 Curatorial Statement
The Night Circus
"Opens at Nightfall. Closes at Dawn." - The Night Circus by Erin Morgenstern (2011).
In her book The Night Circus, Erin Morgenstern describes a curious event, a night circus with the above sign gracing its entrance. This is not your average circus with only clowns and lion tamers; instead it is an epic magical contest – turning an ordinary circus into a true spectacle of magic and wits. For Scotiabank Nuit Blanche 2014, part of Toronto's downtown will become its own 'Night Circus' activated by artists who will dazzle, entertain and enchant visitors. And as quickly as the circus arrives, like magic, it will vanish before our eyes once the dawn breaks.
— Denise Markonish
Biography
Denise Markonish is the curator at MASS MoCA in North Adams, MA. She has curated solo exhibitions of works by Nari Ward, Petah Coyne, Inigo Manglano-Ovalle, Stephen Vitiello, and Sanford Biggers along with numerous group shows, including 2012's Oh, Canada –the largest survey of contemporary Canadian art ever organized outside of Canada – accompanied by a 400-page catalogue co-published with The MIT Press. Other exhibition catalogues have been published by MIT Press, Yale University Press and D.A.P. In addition to her curatorial work Markonish has taught at University of New Haven, Stonehill College and the Rhode Island School of Design. Markonish is currently working on an exhibition with Teresita Fernandez opening in May 2014 and one with Lee Boroson for October 2015.
The Night Circus Projects