Message From Scotiabank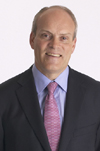 Welcome to Scotiabank Nuit Blanche 2014, the ninth annual edition of Toronto's magical, dusk-to-dawn celebration of contemporary arts and culture.
The arts have the power to inspire us to pursue our passions, and provide us with new perspectives and experiences that enrich our lives. That's why we are proud to support the arts, in communities across Canada and around the world, as part of our Bright Future program.
It is our pleasure to partner with the City of Toronto as the title sponsor of this special event, where talented artists will share their work at more than 100 locations throughout the city.
Come out, stay up late, and experience your city in a whole new way.  We hope you have a wonderful time!
Brian Porter
President Scotiabank