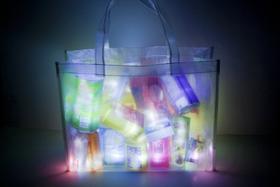 All Night Convenience, 2012

Suitable for all ages
Thank you to Richard Winchell for digital and photography assistance
All Night Convenience, 2012
Rhonda Weppler - San Francisco, USA
Trevor Mahovsky - Vancouver, Canada
Installation
In the spirit of events like the Singapore Lantern Festival and Basel's Fasnacht, Rhonda Weppler and Trevor Mahovsky have created a life-scale sculptural homage to the common corner store in the form of a 300-square-foot lantern. Two thousand smaller lanterns are displayed upon shelves inside the store, illuminating its translucent walls. These small lanterns, laboriously assembled by the artists, represent a cornucopia of products ranging from toothpaste to canned pork goulash. During the course of the evening the store will gradually darken, as visitors enter the see-through building and select lanterns, which are offered for free, to carry off into the festival atmosphere of the event. A sentimental version of a closing-out sale, this work invites as many questions about the complex nature of gifts as it does about things that are sold.

Weppler and Mahovsky's body of work focuses on the objects that comprise the background of the world. Though rooted in the tradition of still life, their art often takes the form of 'living' sculptures and environments that change in time. These works are intended to trace the drawn-out, effortful processes that bring them into and out of existence.

Limited lantern quantities available.
Rhonda Weppler (born in Winnipeg) and Trevor Mahovsky (born in Calgary) have worked together since 2004. They have MFA degrees from the University of British Columbia. Exhibitions: National Gallery of Canada, Vancouver Art Gallery; LABoral, Gijόn; Dos de Mayo, Madrid; Power Plant, Toronto; Tokyo Wonder Site; loop-raum, Berlin; Art Gallery of Nova Scotia, Halifax. Residencies: apexart, New York (Mahovsky); ISCP, New York (Weppler); Artspace, Sydney. Collections: Musée d'art Contemporain de Montreal, National Gallery of Canada.
86

Bay Adelaide Centre, 333 Bay Street (Between Bay and Yonge, south side of Temperance Street)
This project is outdoors.