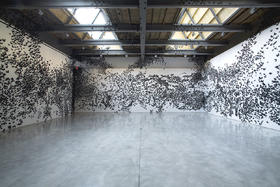 Black Cloud, installation views at Yvon Lambert Gallery, New York, USA, 2007
Photo: Yvon Lambert Gallery, Courtesy of Diane and Bruce Halle Collection

Suitable for all ages
Presented in partnership with The Power Plant Contemporary Art Gallery
Supported by The Jack Weinbaum Family Foundation, La Fondation Emmanuelle Gattuso. Thank you to Dianne & Bruce Halle Collection, Tanya Bonakdar Gallery New York CIty
With assistance from The Mexican Consulate and Aeromexico
Extended Project
Revisit this project between October 4 - 12. Learn More.
Beaufort 12: Black Cloud, 2007
Carlos Amorales - Mexico City, Mexico
Installation
Black Cloud, is an installation of 30,000 black moths cut out of paper and clinging to the walls and ceiling of The Power Plant´s clerestory. A dreamlike vision of a vaulted space filled with a swarm of moths inspired its materialization. From conception, this piece has exhibited in different places, such as art galleries, an art fair, museums, the house of a collector and in a former church. The piece is installed by using the entirety of the space and adjusting to the architectural conditions. The almost surreal yet frightening imagery of this fleet of insects creates a mysterious and oppressive atmosphere. It evokes the experience of a plague, where the boundaries between beauty and awe, good and evil, calm and calamity are constantly blurred and where one's imagination is called upon.
Carlos Amorales studied in Amsterdam at Gerrit Rietveld Academie and at Rijksakademie van Beeldende Kunsten. He uses various media such as drawing, animation, installation, performance, digital graphic, video and painting in his work. He is also co-founder of Nuevos Ricos, a discographic project. He is collected internationally and has participated in Biennials such as Shanghai, Berlin, Manifesta 9, La Habana, Performa and Venice.
33

The Power Plant Contemporary Art Gallery
231 Queens Quay West
This project is indoors.