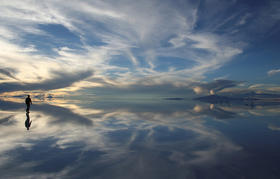 Cumulus, 2006
Tomás Saraceno
Photo: Courtesy the artist, Tanya Bonakdar Gallery, New York and Esther Schipper, Berlin


Suitable for all ages
Courtesy the artist, Tanya Bonakdar Gallery, New York and Esther Schipper, Berlin
Beaufort 0: Cumulus, 2006/2008
Tomás Saraceno - Tucuman, Argentina
Video Installation
The panoramic video installation Cumulus turns spatial limitation to spectacular advantage. To realize this work, the artist travelled to the Salar de Uyuni in Bolivia - a three-acre salt lake in a desert positioned more than two miles above sea level. There he set up a ring of thirty-two cameras to shoot sped-up footage of cloud movements, sunrises, and sunsets. After reddening dawns break, the sky fills and empties dramatically. A thin layer of water on desert terrain, the lake reflects skyscapes so that clouds and land fuse together.

The installation invites the viewer to consider the idea of living in the clouds, to explore the possibilities of airborne communities, as a solution to the world's growing, and increasingly troubled population.

The video installation Cumulus, as well as sculptural installations by the artist, seeks and explores new, sustainable ways of inhabiting and sensing the environment towards an aerosolar becoming.
An artist trained as an architect, Tomás Saraceno deploys insights from engineering, physics, biology and environmental studies in his practice. His work has been shown in international solo and group shows in institutions such as Biennale di Venezia, Walker Art Center, The Metropolitan Museum of Art in New York, the Kemper Museum of Contemporary Art in St. Louis, Hamburger Bahnhof, Berlin and Palais de Tokyo, Paris. Since 2012, Saraceno is a Visiting Artist of the CAST program at MIT.
21

Victoria Soya Mills Silos
Lakeshore Boulevard East & Parliament Street
This project is outdoors.