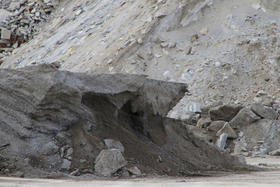 The Cleaving (research image), 2015

Suitable for all ages
Represented in Canada by Clint Roenisch, Toronto
Beaufort 11: The Cleaving, 2015
Heather and Ivan Morison - London, UK
Sculpture
The Cleaving is a barricade across a city street.

The Cleaving is the detritus from a catastrophe; a huge storm, tearing up trees, piling ruin upon ruin, creating a blockage between buildings.

The Cleaving is a ruin of something that once stood in its place, a moment of implosion.

The Cleaving is a splitting apart; now one part of the city is segregated from another, the city is zoned. The population now divided.

The Cleaving is a fortified defence.

But The Cleaving leaves a cleft, a gateway through the obstruction from one state to the other, and the terms of safe passage remain unclear.
Heather and Ivan Morison have established a collaborative practice over the past decade that transcends the divisions between art, architecture and theatre. They make art as an active engagement with materials, histories, sites and processes, producing sculpture, plays, photographs, installations, buildings and site-specific projects. Their central preoccupation has always been how we navigate catastrophe and the essential violence of change, from a wider social view to how individuals transcend moments of personal calamity.
32

Queens Quay East & Lower Jarvis Street
This project is outdoors.