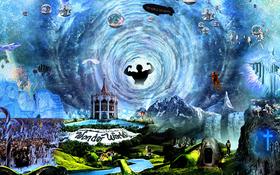 Civilization (Megaplex) - Heaven Detail, 2010
Photo: Courtesy of Christopher Grimes Gallery


Parental guidance advised
With assistance from Christopher Grimes Gallery - Santa Monica, Future Cinema Lab - York University, Public Access and The Vanity
Civilization (Megaplex), 2010
Marco Brambilla - New York, USA
Video Installation
Civilization (Megaplex) is a multi-layered tableau interconnecting images that illustrate a contemporary, satirical take on the concepts of eternal punishment and celestial reward. More than 300 individual channels of looped video are blended into an expansive landscape that continuously scrolls upwards, from the depths of hell into the gates of heaven.
Marco Brambilla is a Milan-born, New York-based video artist whose work has been exhibited in major private and public collections including the Kunsthalle Bern, the Guggenheim Museum, the San Francisco Museum of Modern Art and the New Museum of Contemporary Art. His video installations have also been screened at Venice Film Festival (2011), Sundance Film Festival (2012) and will be in this year's Cannes. In May 2011, Brambilla's first major retrospective opened at the Santa Monica Museum of Art.
63

Toronto City Hall, Rotunda, 100 Queen Street West
This project is indoors.