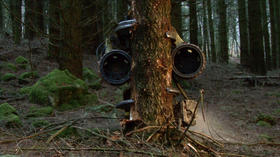 Once upon a time, 2011-2012, Still image


Suitable for all ages
Thank you to Blandine Chavanne - Musée des Beaux Arts, Nantes; Dr. Claytus Davis and Judy Davis; Joel Lamy; Ambrose Madigan; Roland and Tristan Susse
Once upon a time, 2011-2012
Video Installation
Inspired by the Brothers Grimm tales, Tania Mouraud went into the boreal forest of Canada and two forests of France to film the forest industry and different machines linked to the wood industry. The choreography of the moving images, the visual rhythms and the richness of colours provoke a deep emotional impact. The machines look like voracious monsters and bring back memories of the mythical figure of the ogre.

The projection of this drama happening in another world, far from the city, introduces the balance of life on the main building of Toronto City Hall. This story, the fight for survival, appears on the exterior of the concrete and glass building.

Since the end of the 1990s, Tania Mouraud's video works investigate a vision on the human condition questioning the possibilities of survival among the different traumas of our world. Exploring the theme of responsibility, her work evokes the basic fear of human beings. In her videos, nature and industry become the theater of a tug of war.
Tania Mouraud (b. 1942) lives and works in Paris and exhibits internationally. She entered the art world as a painter in 1963. Since the 1970s, her relationship to nature and its counterpart has appeared in numerous works, through different media (photography, video, sound composition, site-specific installation). Invited by Laurent Le Bon, curator of Nuit Blanche Paris 2012, she will perform live at the Théâtre de la Ville, PreVItanSoRan a sound and video installation based on randomness.
48

Toronto City Hall, 100 Queen Street West (projection viewable from Bay Street)
This project is outdoors.