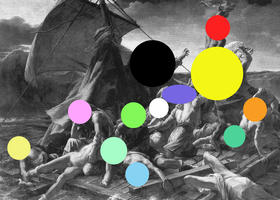 2012


Parental guidance advised
With assistance from inkblot media and Urban Visuals
Thank you to David Carter, Concord Adex Developments, Blaine Evans, Sanagan's Meat Locker, Michael Venus and David Weir
Museum of the Rapture, 2012
Douglas Coupland - Vancouver, Canada
Signage, Tableaux vivants
Writer and visual artist Douglas Coupland continues his career-long exploration of the new ways in which modern citizens inhabit their bodies and heads. Visitors will pass through a maze of signage and living tableaux that use the religious notion of The Rapture as an embarkation point to an exploration of the separation of mind and body. Coupland believes that technology has changed us so thoroughly that most of what we do in our daily lives would be impossible to even explain to people 50 years ago.

"Toronto's creepy, compressed City Hall parking garage merely highlights the notion of the individual being part of a system that's larger than themselves, and that has been in motion for decades. I want visitors to be weirded out. Then I want them to be a bit angry. And then I want them to realize that there's no going back and that the future is all we have. I want people capturing the event on their smartphones to feel as if they're filming dark unspoken dreams."
- Douglas Coupland
Douglas Coupland is the author of 13 novels, 10 works of nonfiction. Beginning in 2000 he became the creator of a large body of visual work that, with his books, has explored the fluid and morphing transition of the collective consciousness from the pre-Internet world into the all-Internet world. His ideas on individuality, the future, technology and identity that seemed odd, incomprehensible or threatening in 1992 seem, 20 years later, central to our culture's dialog about itself.
56

Toronto City Hall underground parking garage, 100 Queen Street West (Accessible from entrance ramp on Bay Street. Wheelchair accessible via "SEAL" elevator on Nathan Phillips Square.)
This project is indoors.