Romancing the Anthropocene
Downtown South / West
Curators Ivan Jurakic and Crystal Mowry invite you to explore the age of man and its effect on our environment along King Street west of Yonge Street and Bay Street south of Richmond Street West.
Near by

Pick up a map at David Pecaut Square or Nathan Phillips Square.


Hop off the subway at King Station or St. Andrew Station.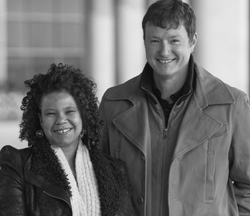 Curatorial Statement
Romancing the Anthropocene
The Anthropocene, or age of man, is a term proposed by geologists and ecologists as a replacement for the Holocene, the current geological epoch that began over 10,000 years ago. The Anthropocene marks a distinct era after the advent of the Industrial Revolution, a period in which humanity has left an indelible mark on both the geological record and the ecosystem. At face value it acknowledges the triumph of science and human achievement but it also suggests a cautionary message regarding climate change, the destruction of natural habitat, resource depletion, and the extinction of plant and animal species.
Using the Anthropocene as our guiding principle, we want to address the complexities of this proposed new age within the context of the urban environment while addressing our enduring, and yet troubled relationship with the natural world.
— Ivan Jurakic and Crystal Mowry
Biography
Ivan Jurakic is the Director/Curator of the University of Waterloo Art Gallery. He has curated numerous exhibitions and sat on the curatorial panel for the 2009 Sobey Art Award. His writing has appeared in multiple publications and exhibition catalogues. He lives in Hamilton, Ontario.
Crystal Mowry is Senior Curator at the Kitchener-Waterloo Art Gallery. She has curated and organized more than 40 exhibitions, managed catalogues, and served on various public art juries. In 2011 she received an OAAG Exhibition Award for Ernest Daetwyler: Barn Raising [Reality in Reverse]. She is based in Cambridge, Ontario.
Commissioned Projects
Open Call Projects
To encourage involvement by a wide range of artists – established and emerging – each exhibition includes projects selected by the curators through an open call process.