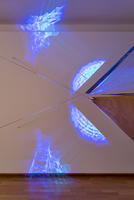 The Question of a Hunch, SFU Gallery, 2015
Photo: Courtesy of Blaine Campbell

Suitable for all ages
Thank you to York University Doctoral Program in Studio Practice, Visual Arts; Social Sciences and Humanities Research Council of Canada; and Lund University Atomic Physics, NASA
Beaufort 2: The Question of a Hunch, 2015
Kika Thorne - Vancouver & Toronto, Canada
Video Installation
In The Question of a Hunch, the artist extends her interests in geometry, the visible spectrum and magnetism as a field upon which to project questions regarding chemical composition and its political ramifications. Collapsing history, The Question of a Hunch combines the oldest visual representation of an atom with the most recent video capture of an electron.

In the Timaeus, Plato (350BCE) aligns each element with a corresponding form, earth: cube, air: octahedron, fire: tetrahedron, aether: dodecahedron and water: icosahedron. Thorne's simplex geometric form, an octahedron, is made of 8 triangular facets. 24 coordinates fix the angle and placement of each equilateral triangle to the wall, floor, ceiling. The octahedron is built out of Flash Gro mylar, a hydroponics light reflector purchased at a local grow op supply store. Onto this she projects a YouTube video of an electron created by Anne L'Huillier & Johan Mauritsson of the Atomic Physics Department at the University of Lund, Sweden, 2008. Field recording from the magnetosphere, collected by NASA Voyager, 1990.

From Plato to Planck, this multi-phase project experiments with relations between energy and will to ask: "if we sing the song of carbon dioxide back to itself, will it fall apart?"
Kika Thorne is a Toronto based artist, curator and activist. She was a co-founder of SHE/tv and the Anarchist Free Space, participated in the October and February Group collective protest sculptures and instigated Safe Assembly during the 2010 Winter Olympics. Thorne has exhibited extensively including projects with Berlinale Forum Expanded; e-flux; Abrons, NYC; Vancouver Art Gallery and the Power Plant, Toronto. She is currently working towards a PhD at York University in Toronto.
23

George Brown College - Waterfront Campus
51 Dockside Drive (Located in the loading dock on the West side of the building, between Corus and George Brown College.)
This project is indoors.