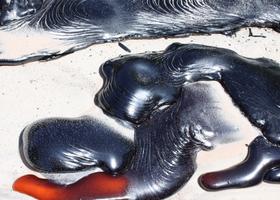 Detail from continuous pour, 2012
Photo: Jenny Wysocki

Suitable for all ages
In association with Syracuse University
Thank you to Noah Hausknecht, Phillip Evans, Casey Westbrook, Jason Wetmore, Ann Clarke and in particular to Jenny, Max & Jack Wysocki.
Beaufort 4: Lava Field No. 2, 2015
Robert Wysocki - Syracuse, USA
Land Art
This work is a geomorphically accurate lava field made using a customized coke-fired cupola generating temperatures upwards of 1800°C. This temporary land art piece is the product of five years of experimentation and development to achieve the creation of a mobile volcano.

Wysocki's fundamental interest is the contemplation of natural landform toward the understanding of the sublime. The use of a transcendent dangerous and spectacular material of lava conveys the power and force of nature as well as the inherent beauty and wonder of earth processes.

This work stems from the lifelong fascination with the landscape as it exists, as well as its depiction in art and literature. It is giving the viewer an occurrence and experience one cannot have in nature.

Lava is a fluid object that must be seen in the moments of its birth to be experienced.
Wysocki grew up on a farm in Northern California within sight of Mt Lassen, the southernmost active volcano in the Cascades. Majoring in architecture, he was profoundly influenced by a geology course at UC Berkeley, gaining a profound appreciation for the machinations of the earth. A large-scale structures astronomy course in graduate school at Yale redefined his understanding of scale and time. Upon re-entering the other side of academia, Wysocki discovered the foundry, his lifelong love affair with the landscape ever-present.
25

51 Dockside
51 Dockside Drive (The Lava Pour takes place on the parking lot north of George Brown College)
This project is outdoors.