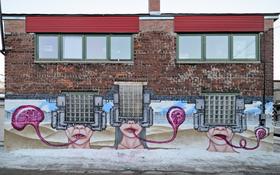 Site 3 coLaboratory "Tetris on the East Wall" by Marc Reeve-Newson and mural by Daeve Fellows, 2014

Parental guidance advised
Site 3 coLaboratory
Galaxy Heist, Five Magic Cubes, and Photon Gallery
Hopkins Duffield - Toronto, Canada
Kris Coward - Toronto, Canada
Site 3 coLaboratory - Toronto, Canada
Installation
A collection of fun lighting-focused installations set up inside and outside. Come play with motion sensors and lasers, illuminated shapes, and more.
Learn More
hopkinsduffield.files.wordpress.com/2014/02/galaxy_heist_diagram_2.jpg
unripe.melon.org/dodecahedron/
21

Site 3 coLaboratory
718 Ossington Avenue (Between Ossington Avenue and Concord Avenue, in the alley immediately south of Bloor Street West. Look for the flower mural off Ossington Avenue.)
This project is both indoors and outdoors.