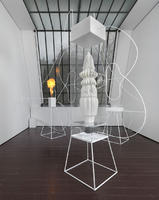 Requiem for Harley Warren ("Screams from Hell"), 2015
Photo: Jens Ziehe – TBA21 Thyssen Bornemisza Contemporary, Vienna

Suitable for all ages
Commissioned by Thyssen-Bornemisza Art Contemporary
In association with Sound design: Pierre Lanchantin (Machine Intelligence Laboratory, University of Cambridge)
Beaufort 9: Requiem for Harley Warren ("Screams from Hell"), 2015
Marguerite Humeau - Paris & London, France & UK
Installation
This installation is a new chapter in the artist's quest 'to explore the means by which knowledge is generated in the absence of evidence.' This installation stages the voice of the earth itself, inspired by recordings of 'screams' emanating from various fissures in the planet's crust, including the so-called door to hell in Turkmenistan, that have been reported in heterodox documentaries and in science fiction. It is comprised of a choir of shrieking and bellowing sculptures - three vitrines and their vocal catalysts. Each combines raw minerals and high-tech elements. One instrument uses the magnetic properties of erbium (normally used in fiber optic cables) to amplify and transmit the stalagmite's testimony; another employs a neodymium amplifier to capture the electromagnetic speech of minerals; a third captures the roar of flame. The result is an unsettling chorus from the beyond.
Marguerite Humeau creates artistic speculations using actual scientific research techniques. Recent exhibitions include Echoes at DUVE Berlin, Rare Earth at TBA-21, Vienna (2015); Horizons at Import Projects, Berlin, The Things?— A Trip to Europa at HEAD, Geneva, Extinction Marathon: Visions of the Future, Serpentine Galleries, London (2014); The Universal Addressability of Dumb Things for Hayward Touring, Politique Fiction, Cité du Design, Saint-Étienne, France (2013) and Talk to Me at Museum of Modern Art, New York (2011).
Learn More
margueritehumeau.com/requiem-for-harley-warren/
30

WaterPark Place
10 Bay Street (Located in the lobby adjacent to the escalators.)
This project is indoors.