Scotiabank Nuit Blanche
Getting Around
Be sure to take some time to plan your route in advance. Avoid driving downtown and take advantage of these easy and affordable ways to get to and through the event.
On Foot
This year, exhibition projects are closer together and more walkable so you can see more in less time. To reduce congestion and provide more space for pedestrians, three road closures have been created.
By Bike
Cycling is a great way to see as many projects across the city as possible. Don't forget a safety lamp and bell.
Public Transit
The TTC (Toronto Transit Commission) is the quick and convenient way to get around the city 24 hours a day. Here are a few pointers to help you get to and from all three event Zones.
1. All-night service
Normally the Subway/Rapid Transit runs on Saturday nights until approximately 1:30 am, and Sunday service starts again at approximately 9:00 am. Specifically for Scotiabank Nuit Blanche the TTC is offering all-night service to a portion of the subway line.
The Bloor-Danforth subway will run all night from Keele to Woodbine and the Yonge-University subway will run all night from St Clair West to Eglinton.
The 509 Harbourfront Streetcar will be extended overnight to shuttle audiences directly to and from Union Station (Zone B) and Liberty Village (Zone C) in the city's west end.
In addition to the regular all-night Blue Night Network service, increased all-night service will be offered on:
300 BLOOR-DANFORTH all-night bus route to Kipling, Warden and Kennedy commuter parking lots.
320 YONGE all-night bus route to the Finch parking lot.
SPADINA SUBWAY shuttle bus from St Clair West Station to Yorkdale, Wilson and Downsview lots.
TTC all night map image
2. Recommended Routes between Zones
Most projects in Zones A & B are accessible by the Yonge-University subway.
Use the 509 Harbourfront Streetcar to shuttle between Zone C and Zone B.
3. This Day Pass Goes All Night!
The Scotiabank Nuit Blanche TTC Day Pass allows a single customer or a family/group of customers (up to 6 people, maximum 2 adults and 4 children/youths, 19 years of age or under) to pay one low price for unlimited travel on all regular TTC service. For Scotiabank Nuit Blanche, the TTC Day Pass is valid from the start of service on Saturday, October 3, until 9 am on Sunday, October 4. Day Passes are available at all subway stations starting September 8, at a cost of $9.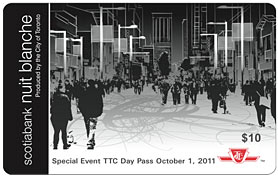 Call 416-393-INFO for route and schedule details or visit www.ttc.ca 

Parking
In Zone C park at Exhibition Place. From there you can walk to Zone C, or ride the Harbourfront Streetcar Rapid Transit to Union Station where you can easily get to Zone B or A.
Look for Green P pay parking lot locations near any of the all-night subway stations.
If you park at a TTC Commuter Parking lot beyond the all-night stations, after 1:30am you'll need to transfer to the TTC's shuttle buses to get back to your car. Please plan ahead!