2014 Curators
On Saturday, October 4, more than 110 contemporary art projects will be exhibited across the city for 12 hours from sunset to sunrise.
Scotiabank Nuit Blanche 2014 will feature four City-produced exhibitions, three of which are located in new neighbourhoods: Fort York, Chinatown/Spadina Avenue and Roundhouse Park/Bremner Boulevard along with Toronto City Hall.  Independent Projects will be located at various sites and neighbourhoods across the city. Full project details will be available this August. 
The Possibility of Everything
Curator: Dominique Fontaine
Exhibition: Between the earth and sky, the possibility of everything

Curatorial statement
Between the earth and the sky, the possibility of everything will create a framework for artistic experimentation presented in a dynamic, engaging, surprising and fun way. Altering our basic assumptions about what we see, feel, and understand about our worlds and ourselves, the exhibition will invite audiences to re-think the social and sensorial possibilities of public spaces. The emphasis will be on artistic productions that make us reconsider the meanings of play and participation. The works will be unconventional and symbolic of their particular aesthetic. Projects will reflect poetically on the social and political issues affecting our present realities and possible futures.

This exhibition includes Yvette Mattern (New York and Berlin) with the Canadian debut of her monumental project Global Rainbow, Pascal Grandmaison (Montreal) with La main du rêve and Máximo González's (Mexico City) Walk among Worlds.
The Night Circus
Curator: Denise Markonish
Exhibition: The Night Circus

Curatorial statement
"Opens at Nightfall. Closes at Dawn." - The Night Circus by Erin Morgenstern (2011).

In her book, The Night Circus Erin Morgenstern describes a curious event, a night circus with the above sign gracing its entrance. This is not your average circus with only clowns and lion tamers; instead it is an epic magical contest – turning an ordinary circus into a true spectacle of magic and wits. For Scotiabank Nuit Blanche 2014, part of Toronto's downtown will become its own 'Night Circus' activated by artists who will dazzle, entertain and enchant visitors. And as quickly as the circus arrives, like magic, it will vanish before our eyes once the dawn breaks.


This exhibition includes Lars Jan (New York and Los Angeles) with Holoscenes, SuttonBeresCuller (Seattle) with Big Top Grand Stand and Derek Liddington's (Toronto) The sun will always rise and fall from east to west.
Before Day Break
Curator: Magda Gonzalez-Mora
Exhibition: Before Day Break

Curatorial statement
Before Day Break contemplates a sensitive artistic practice. Evoking the complexity of life itself, artists from diverse regions will offer singular perspectives in an attempt to cover different angles of reality. Through these practices they enable the audience to turn the ordinary into extraordinary artistic memory. Like the pixels in a photograph, human relationships, religion, socio-political and cultural behaviour are among the themes used to present a deeper message that speaks to the universality of the human experience. Motivated to challenge and surprise the viewer's expectations, this vibrant environment will invite reflection on contemporary history, while juxtaposing it to Canada's quest for inclusion and plurality. All of this leads to satisfaction of the eye and the intellect. Before Day Break defends and trusts the restorative power of art.

This exhibition includes artists Wilfredo Prieto (Cuba) with Ascendant Line, Yoan Capote (Cuba) with Open Mind and Antoni Muntadas' (Barcelona) Good News.
Performance Anxiety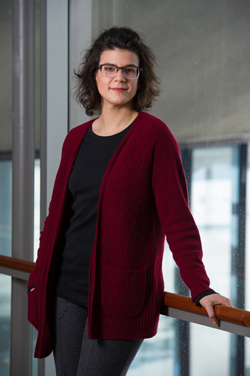 Curator: Heather Pesanti
Exhibition: Performance Anxiety

Curatorial statement
Responding to recent developments in the genre of "live art" over the past several decades, Performance Anxiety will be an exclusively performance-based exhibition. Since the 1970s, performance art has increasingly been utilized as a zone for experimentation and risk-taking in contemporary art. Embracing the medium's potential for failure, surprise, and triumph, Performance Anxiety will be curated in the spirit of a symphony, with events taking place throughout the night in City Hall and Nathan Phillips Square. With both humour and pathos, the title plays on the anxiety one feels when faced with performing, as well as the universal plight that results from the daily projection of our private existence into the public sphere. The various artists and their respective performances will mine the range of human capabilities and emotions, including trickery, voyeurism, apocalyptic fear, political satire, technological innovation, death, destruction, and renewal; many will engage the public and spectator in their performative shenanigans. By definition, every project will flirt with the beautiful potential for unpredictability, failure, tragedy, success, and spectacle inherent in such real-time, live, and participatory actions and events.