Scotiabank Art Project
Presents An Immersive Art Experience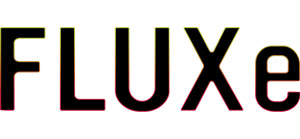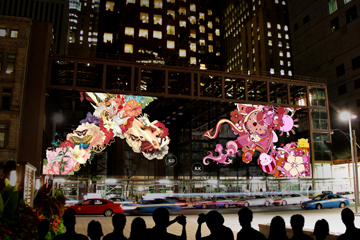 Zone C
Steve Di Lorenzo - Toronto, Canada

Adelaide Street between Bay Street & Yonge Street
FLUXe is an imaginative collaboration of strangers and artists coming together to create on a large digital canvas - a 100 foot x 33 foot LED screen suspended on the north side of Scotia Plaza. In this interactive digital art installation, you'll have the opportunity to transform the urban back drop of Scotia Plaza with your own creative vision in collaboration with one of nine featured artists.
Be the artist!
Move your finger to create brushstrokes that instantly transform the grey cityscape into a space that echoes your most unique inner artistry. Once you've created your whimsical composition, watch as other people add their creative twist, making it a constantly changing work of art. Then go to the FLUXe facebook gallery to see your artwork and to enter for a chance to win a Blackberry playbook.
A diverse group of artists spanning a wide range of artistic styles created brush patterns to make your painting even more inspired. Combine their vision with your creative finger for an unforgettable foray into immersive art.
To learn more about FLUXe please visit facebook.com/scotiabanknuitblanchefluxe
Enter The Contest
Enter for a chance to win 1 of 5 Blackberry® Playbook™ Tablets.
Featured Artists
Eduardo Recife
Lorenzo Petrantoni
Janice Kun
Eric Chan/Eepmon
Christian Toth/Sectr
Hugh Elliot
Alex Kurina
Zena Holloway
Graham Miller
Nanami Cowdroy
Creative Director Steve Di Lorenzo is co-founder, curator and creative director of Pixel. Pixel is an immersive art and technology incubator founded in 2002. Pixel curates art based and commercial projects that mix grass-roots arts with new digital channels to create original interactive experiences.
The FLUXe program was created for Blackberry® Playbook™ Tablet and mobile experiences.
Playbook™ Tablet are courtesy of RIM Blackberry®
® Registered trademarks of The Bank of Nova Scotia
Photo Credit:
Eepmon & Eduardo Recife