Scotiabank Nuit Blanche
Zone C

Independent Project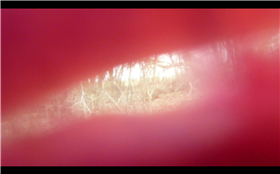 Julia Abraham, Internal Site, 2011, Video

Julia Abraham
Do You See What I See?
Julia Abraham - Toronto, Canada

Performance Art, Video Installation
A welded metal headpiece -- with clips to hold the mouth open and a tray holding a video camera -- will be inserted inside the artist's mouth. At 7:30 pm, the artist will stand in the gallery wearing the headpiece, watching her video Internal Site, re-documenting it through the video camera inside of her mouth. The camera will be connected to an output projector creating a live fed projection from inside her body onto the gallery wall. She will then remove the headpiece and will open an invitation to audience members to participate in the performance. The performance will repeat at 11:30pm, 3:30am, and 6:30am. Between performances the two videos will be projected on adjacent walls with the headpiece sculpture standing on a plinth in the gallery.
Live performances at 7:30pm, 11:30pm, 3:30am, and 6:30am
Suitable for all ages